Hiking is a great way to get exercise and enjoy the outdoors. But it's important to fuel your body properly so you can stay energized and hydrated. The best hiking snacks are nutrient-dense, easy to carry, and delicious! Here are some healthy snack ideas for hiking that will help you reach your destination feeling great!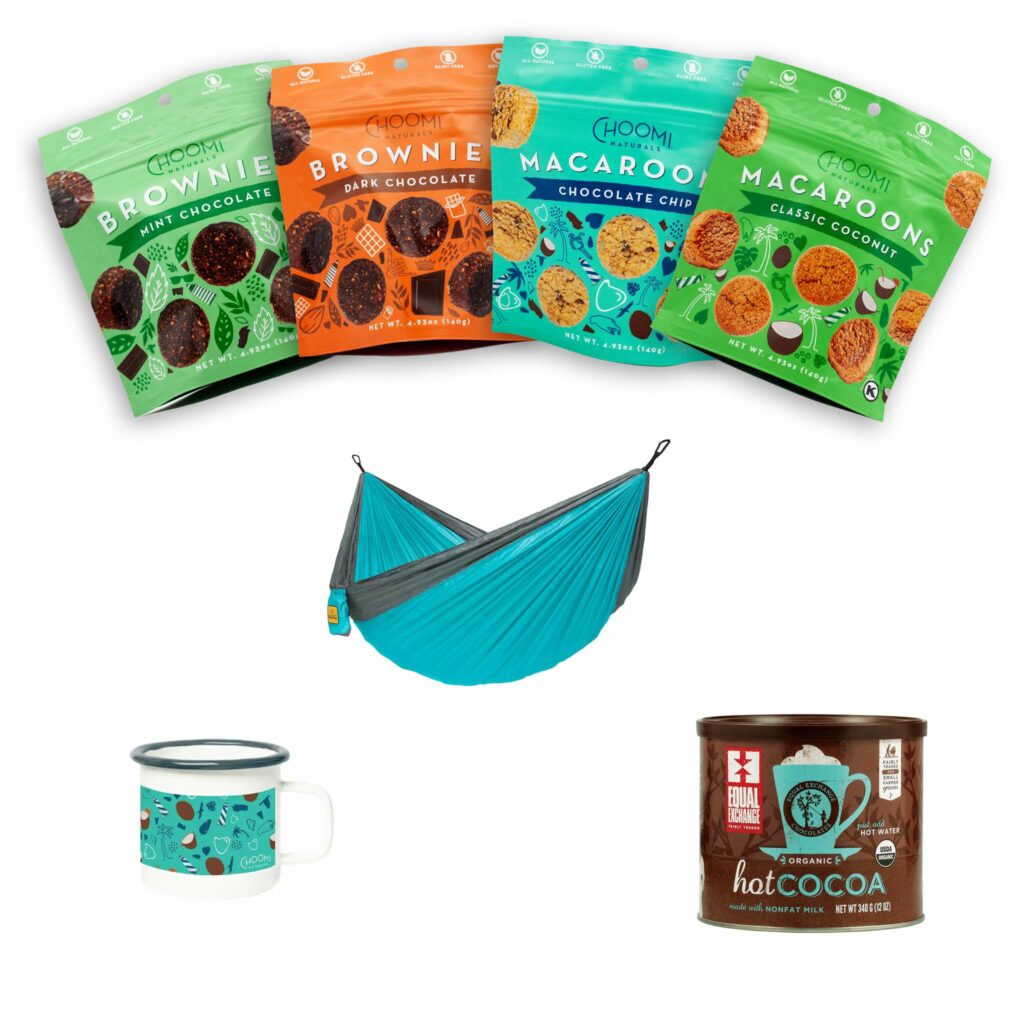 Trail mix: This hiking snack is a classic for a reason. Serving as a great source of protein, healthy fats, and carbohydrates — hit the trails with your favorite mix on hand. To make your own customized trail mix, combine your favorite nuts, seeds, dried fruit, and chocolate chips for a delicious and satisfying snack.
Hiking treats: One of the best parts of hiking adventures is the satisfying snacks. Having snacks that are delicious and nutritious makes the journey even better. Choomi Naturals' gluten-free macaroons, brownies, and cookies are a great choice when you need wholesome snacks that taste good. Our healthy snacks are made with premium ingredients that fuel you and help you reach the summit.
Fruit: Fruit is a great way to get a boost of energy and even hydration when you're hitting the trails. Bananas, apples, oranges, and grapes are all good options. Pro hiking tip: Choose dried fruit when you need to pack light or when space is limited.
Veggies: Vegetables are packed with vitamins, minerals, and fiber, making them a healthy and filling snack for any hiking trip. Options such as carrots, celery, cucumbers, and bell peppers are all good choices. To take your veggie snack to the next level, consider adding hummus. Hummus dip is high in protein, filling, and delicious.
Tips for choosing healthy hiking snacks:
Choose snacks that are high in protein and fiber. These nutrients will help you stay full and energized.
Avoid snacks that are high in refined sugar and unhealthy fats. These snacks will give you a quick burst of energy, but they will leave you feeling tired and sluggish later on.
Pick snacks that come in resealable packaging to keep them fresh longer and prevent spillage into your pack.
Pack snacks that are versatile. You should be able to eat them for breakfast, lunch, or dinner.
Remember to take an icepack for items that need to be chilled during your hike.
Gifts for Hiking Lovers:
If you know someone who loves to hike, consider giving them the gift of Choomi Naturals. Choomi Naturals makes a variety of healthy snacks that are gluten free, dairy free, soy free, nut free, and Non GMO. Shop our selection of macaroons, brownies, and cookies, as well as gift boxes, like our Outdoor Adventurer's Gift Box, that come with fun extras. Help your friends and loved ones fuel their next hike with delicious and nutritious snacks from Choomi Naturals.