The fall semester is in full swing, and that means college students are busy with classes, extracurricular activities, and making new friends. Whether a college freshman or a senior who is ready to graduate, leaving the comforts of home can be a trying time. If you're looking for a thoughtful gift to show your support during this season of change, here are a few ideas for things that you can send your college students to show your love and support.
Tips for Choosing the Perfect Gifts for the College Student:
Consider their interests. What are they passionate about? What do they like to do in their free time?
Think about their needs. What could they use to make their life easier or more enjoyable?
Personalize the gift. A personalized gift shows that you put thought into it.
Make it thoughtful. The gift doesn't have to be expensive, but it should be something the college student will appreciate and enjoy.
Thoughtful Gift Ideas
A Cozy Blanket and Noise-Canceling Headphones
Perfect for a study night in, this cozy blanket and noise-canceling headphones will help your student focus during those long nights of late-night studying.
A Gift Card
Whether it's for their favorite on-campus coffee shop, restaurant, or retail store, a gift card is always appreciated. It is a great way to show them you care and want to support their efforts.
A Subscription Service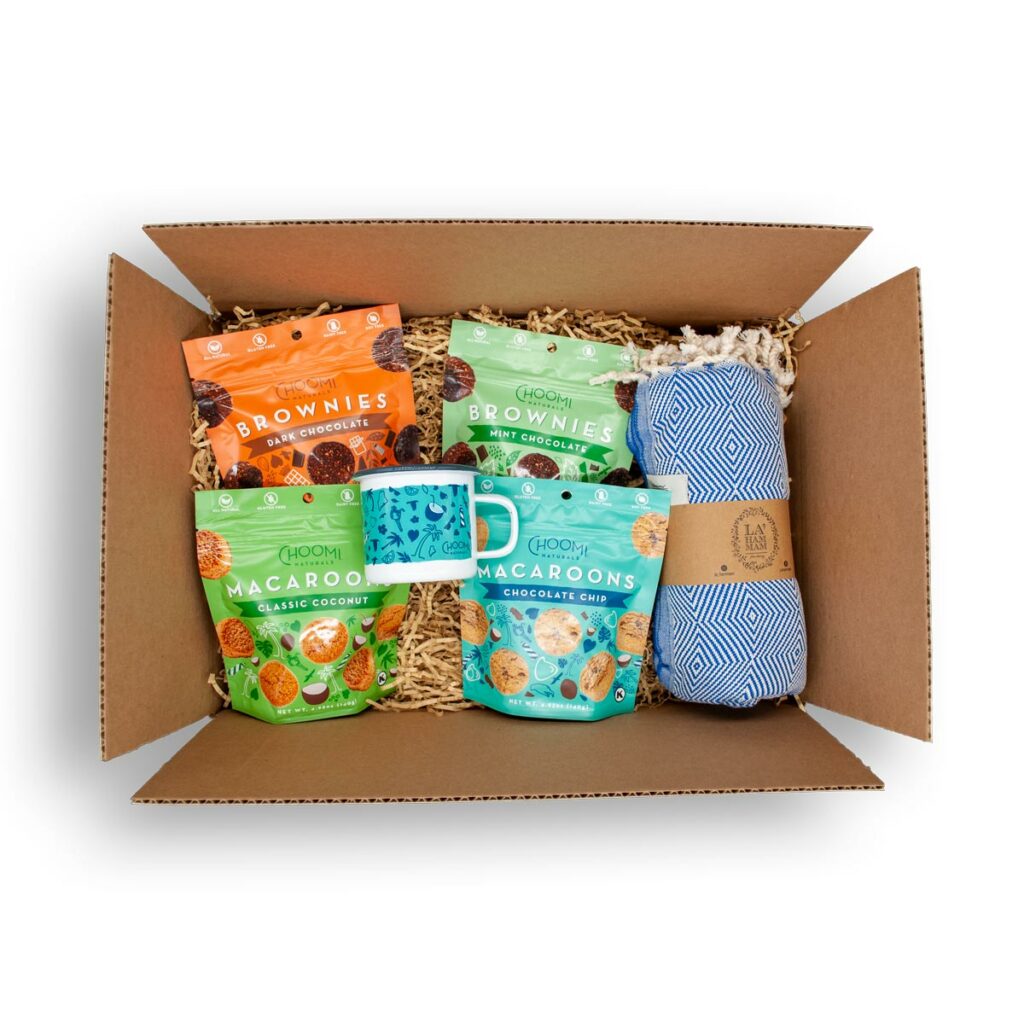 Netflix, Audible, magazines, fitness subscriptions— you name it. College students can always use streaming and subscription services to keep them connected with the world while away from home.
A Care Package
Shop our curated collection of gift boxes from Choomi Naturals. Each box includes wholesome snacks for all their adventures and fun extras that are sure to make them smile! No matter where your student is, these gift boxes ship directly to them and show how much you care.
Choomi Naturals is proud to offer gluten-free healthy snacks that include gluten-free cookies, macaroons, and brownies. Our commitment to creating delicious and nutritious snacks is at the heart of what we do.
Our gluten-free snack collection is perfect for health-conscious individuals who still enjoy great-tasting snacks. With easy resealable packaging, they are also convenient for dorm life, taking to classes or to the gym, or even along on road trips or hikes. Learn more about Choomi Naturals and what makes us different. Also, for a limited time, join our email list and be entered to win a free four-pack of Choomi Naturals. Plus, you'll get 15% off your first order! Don't hesitate. This offer ends at the end of the month!